July 1, 2019
---
Renewed attention on Mitchell Hall
as opening approaches


With the grand opening of Mitchell Hall just two months away, Columbus State provided local media outlets with an opportunity to take a "hard-hat tour" last week to document the progress. The official opening of the $33 million project is set for Tuesday, August 13.
Read the story in the Columbus Dispatch
Read the story in Columbus Business First
Construction updates
Cleveland Avenue
The city's ongoing Cleveland Avenue Streetscape project is running behind schedule. As you may be aware, a portion of the street is one-way, causing traffic congestion around the Columbus Campus. At some point this summer, Mt. Vernon Avenue (next to the Bookstore) will become a two-way street for several blocks to accommodate nearby street closures. The road construction is expected to last into the fall. The Columbus State Police Department will be contracting with the Columbus Division of Police to have several officers assist with parking and traffic control during the first two weeks of the semester.
Food market
Construction on the long-awaited fresh food market at Columbus State is about to get underway. Interior renovations of the utility shed between the CT and GA buildings will begin this week. A firm opening date for the market has not been set.
Early College Experience attracts more than 60 students


Pictured above: Students attending Summer Experiences June 13 - 14.
Pictured below right: Early College students at the Abercrombie & Fitch Direct to Consumer Warehouse in New Albany.
Dozens of high school students spent part of their summer break at a Columbus State Early College Experience summer camp known as Summer Experiences. Funded by the National Science Foundation, it was held June 13-14 and 20-21.
Summer Experiences helps students learn about the College's Modern Manufacturing and Logistics Engineering Technology Work Study program and careers in the field. They took part in hands-on lab activities with robotics, materials science, electrical engineering basics, ladder logic programming concepts, process improvement, and more. Group exercises emphasized problem solving, critical thinking skills, and team work.
As part of their camp experience, students also visited Honda Logistics North America, Honda Marysville Assembly Plant, and Abercrombie & Fitch's direct-to-consumer distribution center. Those visits allowed them to see how engineering and logistics concepts are applied in industry. Thanks to our Grants Office, Employer Engagement and Experiential Learning, and Engineering & Transport Technology faculty for assistance in applying for the grant.
These programs exposing high school students to career opportunities continue to boost Columbus State's efforts to giving back to the community.
Upward Bound summer meals

Columbus State is participating in the Summer Food Service Program. Meals are provided to all eligible children free of charge, regardless of race, color, national origin, sex, age, or disability. This site is classified as "closed enrolled" and provides meals only to Columbus State Upward Bound participants. Meals are provided in Union Hall Cafe. Breakfast is served from 7:45 - 8:10 a.m. and lunch is served from 11:50 a.m. - 12:20 p.m.
If you have questions, contact Deon Newsom at extension 5340.
July 3 closures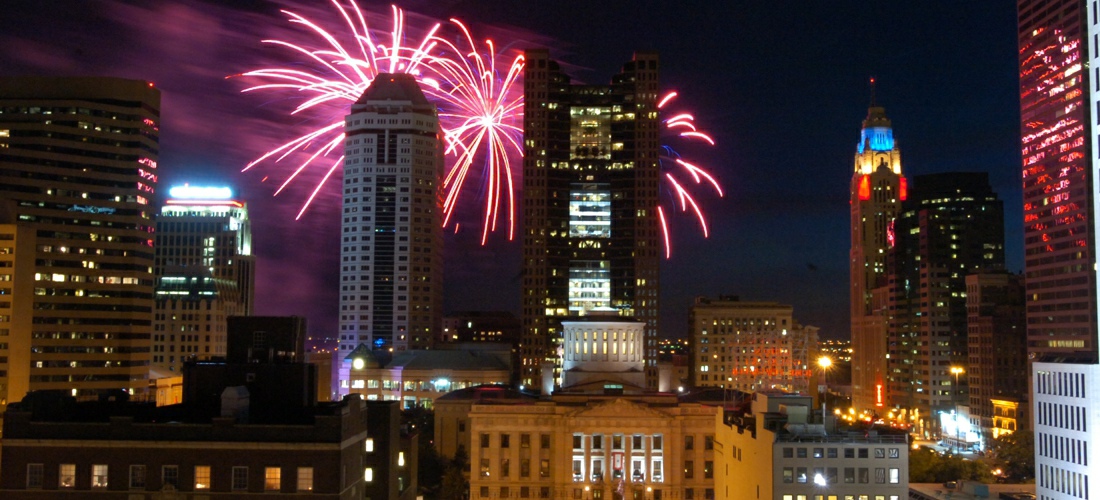 The 13-S parking lot, which is the Columbus State Warehouse lot, which was resurfaced this week will remain closed for the remainder of the week. The closure means routine deliveries and pickups are not be possible for the rest of the week.
Offices
Due to the holiday and annual Red, White, and Boom event downtown, Columbus State offices on both campuses and the regional learning centers will close at 3:00 p.m. on Wednesday, July 3. Faculty members have the option to cancel classes scheduled after 3:00 p.m. on July 3.
Parking
The Columbus State parking garage, and lots 21-S, 27-S, and 3-S will all close Tuesday, July 2 at 11:00 p.m. They will reopen at 6:00 a.m. on Friday, July 5. The parking lots are used as staging areas for the Columbus Division of Police for Red, White, and Boom.


ERG news

Women's ERG not meeting until August
The Women's Employee Resource Group (ERG), for college employees who identify as women, will not meet in July. Feel free to bring your lunch and invite a colleague to join this group when they come back together on Thursday, August 8 from 11:30 a.m. - 12:30 p.m. in the multimedia studio of the Library. If you have questions about the Women's ERG, please contact liaison Crystal Clark or Kelly Hogan.

Capital Planning sessions underway

June 28 – August 15. See all sessions here. (There is a registration link at the top of that page.)
Goldman Sachs 10,000 Small Business Program

Columbus State will begin the first local cohort for 30 small business owners in September. Cincinnati State Technical and Community College and Sinclair Community College in Dayton both plan to launch cohorts next year. Learn more here about the program and its impact.
Eligible businesses must have at least $150,000 in revenues, at least four employees, and have been in business at least two years. An information session is scheduled for Monday, July 1 from 5:00 - 6:30 p.m. in WD 414. If you know of a business owner that would be a good fit for the program, please have them RSVP here. For questions about the program, contact Shane Kirby at extension 2095 or Stephanie Hall at extension 5937.
Paper ordering process for new copiers

Most offices have now received new copiers and printers along with new instructions on how to print. Beginning on Monday, July 1, Konica Minolta will be Columbus State's new supplier for copier/printer/scan/fax equipment. Along with that, the paper ordering process is also changing.
Current users of the Office Depot ordering portal will be able to order paper by the box for next-day delivery. It's the same portal currently used for ordering office supplies. No more than 10 boxes should be ordered at a time, with a preference for only one or two.
Current users of the Office Depot ordering portal will be able to order paper using two new charge codes: one for paper used in the office for administrative purposes and the other for paper used to produce materials used in labs or coursework. (In both cases, you will select an account name and/or number.)
The approval process for ordering is identical to what's currently used to order office supplies.
Questions on how to use the portal to order paper should be directed to Darrin Albaugh at extension 2641 or to Natasha Bryant at Natasha.Bryant@OfficeDepot.com (513-253-6243).
Summer professional development

"Poverty in the Brain" featuring presenter Rob Levitt on Friday, July 12 from 8:30 a.m. - 4:00 p.m. in WD 412. Click here to register

If you have questions, contact Karen Rippe at extension 5497.
Open Educational Resources workshops at the Library

The Columbus State Library invites you to find out how faculty across the country are gaining greater control over their course material, helping make textbooks affordable, and preparing all students to learn on the first day of class. Join Columbus State's Open Educational Resources (OER) Faculty Fellows for these OER workshops by signing up in Cornerstone by selecting "Learning Search" option under the Learning tab, then search for "OER."
If the workshop times do not accommodate your schedule, please contact Rachel Dilley at rdilley2@cscc.edu for individual training at your convenience. The workshops below are held in the Library's third-floor instructional lab in room 302.
OER Adoption Process
Friday, July 12 at 10:00 a.m.
Understanding Open Licenses
Friday, July 19 at 10:00 a.m.
Fair Use in the Classroom
Friday, July 26 at 10:00 a.m.
Annual mobile mammography screening

The annual mobile mammography screening will be held in the large 11-S lot across the street from Nestor Hall Auditorium on Monday, July 15 from 9:00 a.m. - 4:00 p.m. To make an appointment call James Care Mammography Scheduling Department at 614-293-4455 during business hours. If you have questions, contact Nichole Bowman-Glover at extension 3989.


Time Management for students

The Center for Advising, Support and Exploration (CASE) and the Student Academic Support Services (SASS) office are again teaming up to offer Digitize Your Time, a time management workshop series providing students with resources, information, and skills to help them be successful.
The workshops will address the importance of good time management and will include an interactive presentation, creative tips, and electronic tools used daily to help keep the balance of life and school organized. Students will explore how to set up an electronic calendar using whatever tools they are the most comfortable with such as Outlook, Yahoo, and Google.
Students can sign up on Cougar Connect; walk-ins are also welcome. The sessions will be held on Thursday, June 20 at 2:00 p.m. in Franklin Hall 310 and on Tuesday, July 16, at noon in Nestor Hall 323. Please spread the word to students.
Join Columbus State's Pelotonia team

With the annual 5K completed, avid athletes can now prepare to pedal. For the first time since 2013, there will be a Columbus State team participating in the Central Ohio cancer research fundraiser Pelotonia.
This charity fundraiser bicycle ride offers a variety of distances for riders. Pelotonia will take place on the weekend of August 3 and 4. In addition to riding, there are options to sign up as a virtual rider or volunteer.
To register, follow the registration signup process of your choice and request to join the Columbus State Community College team at the "Request to Join a Peloton" step. If you are already registered for Pelotonia 2019 and would like to join the Columbus State team, please contact Brent Wilder at extension 5789 or Amanda Cecil at extension 2083. Brent and Amanda are the College Pelotonia Ambassadors.

Equity Advocate training

To support fair, legal, and equitable hiring and promotional processes at Columbus State, you are invited to participate in the Equity Advocate Certification Training Program. This program amplifies the College commitment to fairness and equal opportunity in hiring and promotion.
If you're interested in becoming an Equity Advocate, contact Morgan Sayre at extension 2406. Once confirmed, the meetings below will be shared with your Outlook Calendar. (Locations have not been determined.)
Cohort 10
Friday, September 13 from 1:00 - 4:00 p.m.
Kickoff; successful and inclusive hiring

Friday, September 20 from 8:30 a.m. - 4:00 p.m.
CUPA: building a successful, more inclusive search
Friday, September 27 from 8:30 a.m. - 4:00 p.m.
Cultural competency: developing vocabulary, welcoming, understanding privilege
Friday, October 4 from 9:00 a.m. - noon
Practicum
Important end-of-fiscal-year dates

In our continued effort to allow as much time as possible for the expenditure of Fiscal Year 2019 funds, we will retain a June cut-off date for purchases. The last day to purchase goods and services for the year ending June 30, 2019, is June 7, 2019.
Friday, June 7, 2019
Last day to create requisitions in Collea
Friday, June 14, 2019
Last day to place orders with vendors. Exceptions must be approved by your Cabinet member and by Darrin Albaugh, assistant director, Purchasing.
Friday, June 21, 2019
Last day to place office supply orders with Office Depot.
Friday, June 28, 2019
Date by which all goods and services must be physically received in order to be charged to FY'2019 budget. (Note, operating budgets do not carry into the next fiscal year so goods not received by June 30, 2019, will be applied to the FY'2020 budget.)
Friday, June 28, 2019
Last day to complete and submit Bookstore requisition for stock items in the Bookstore.
Tuesday, July 30, 2019
Date by which invoices must be received in Accounts Payable to be paid from FY'2019. Invoices received after July 31, 2019, will be charged to FY'2020.
May 13 - July 31
Subway - Monday - Thursday, 10:00 a.m. - 3:00 p.m. (Closed Fridays)

May 28 - August 9
Union Cafe and Starbucks – Monday - Friday 8:00 a.m. - 2:00 p.m.
Sips – Closed
Department of College Recreation & Wellness (CRW) offerings
Mind Body Recreation Classes
Monday and Wednesday 1:00 - 2:00 p.m. Hatha Yoga
Friday 11:00 a.m. – noon Barre, noon - 1:00 p.m. Yoga Flow or Mat Pilates (alternating weeks)
Self Defense Program
Monday 5:00 - 6:30 p.m., Thursday 10:00 - 11:30 a.m., and Friday noon – 1:30 p.m.
Delaware Hall 047
Guidance with Grace Podcast
Released weekly on Friday mornings and can be heard on SoundCloud.
Wellness Workshop
The Benefits of Running & Strength Training; Wednesday, July 24 at noon; Delaware Hall 158
*additional online seminars will be available via CRW social media pages and the CRW webpage
Columbus Campus Fitness Center Hours
Monday - Thursday 6:15 a.m. – 6:00 p.m.
Friday 6:15 a.m. - 4:00 p.m.
Delaware Campus Fitness Center Hours
Monday-Thursday 8:00 a.m. – 6:00 p.m.
Friday's 8:00 a.m. – 4:00 p.m.
The Conditioning Center Hours
Monday - Thursday 6:15 a.m. – 6:00 p.m.
Friday' 6:15 a.m. – 3:00 p.m.
DEIS faculty Blackboard training workshops
Blackboard's Features
Learn how to use Blackboard features that will make your life easier. Some are brand new to Blackboard and some are just new to you. Due Date Management, Video/Audio Feedback, Grade Center tips and more!
Tuesday, July 9, 1:00 - 2:00 p.m.
Location: CT 119
Register here: http://web.cscc.edu/is/EmployeeTraining/register.asp?C=908&D=5766
Kaltura Capture
For years, TechSmith (Camtasia) Relay has been the College's simple screen/camera recording program. It is now being phased out and will be completely replaced with a new program, Kaltura Capture, by the end of 2019. So join us and learn about Kaltura Capture, which works on any computer to create your own videos with just a few mouse clicks. Those videos are then automatically pushed to Blackboard, where they can be easily embedded in any course site. You can also embed the videos in any other website — including CSCC's own, soon-to-be-released YouTube-like site — or download them to your computer.
Friday, July 12, 10:00 - 11:00 a.m.
Location: CT 106
http://web.cscc.edu/is/EmployeeTraining/register.asp?C=927&D=5768
Use Learning Glass to Enhance Your Class
Why use Learning Glass? You need to show students diagrams, graphs, illustrations, flowcharts, mathematical equations or scientific formulas. In your classroom, you stand at a whiteboard with your back to students while you teach. With Learning Glass – a camera records your face, your voice, and your writing on the Lightboard for a more personal and engaging learning experience. Your recorded Learning Glass presentations in Blackboard benefit web and blended students. Workshop includes hands-on practice.
Friday, July 12, 11:00 a.m. – noon
Location: CT 106
http://web.cscc.edu/is/EmployeeTraining/register.asp?C=926&D=5775

Monday, July 29, 2:00 - 3:00 p.m.
Location: CT 106
http://web.cscc.edu/is/EmployeeTraining/register.asp?C=926&D=5776
Tips, Tricks, and Techniques to Make Your Grade Center Experience Better
Learn all about your Blackboard Grade Center including filtering, manage column organizations, weighted grades, and more!
Friday, July 19, 11:00 a.m. - noon
Location: CT 119
http://web.cscc.edu/is/EmployeeTraining/register.asp?C=924&D=5764
Blackboard Grade Center
Need to brush up on your Grade Center skills? This workshop will introduce you to the main Grade Center features. Participants can also schedule additional one-on-one help with the Faculty Assistance Center following the workshop.
All College faculty are required to use the Grade Center in Blackboard. According to a resolution approved by Academic Council:
In order to increase student success, the OAA Digital Learning Committee recommends that all Columbus State faculty employ the Blackboard Grade Center for students in a manner which allows students to determine, at any point during the term, their current grade in the course (e.g. a running average; running total, weighted or unweighted; other up-to-date benchmark that allows a student to compare their performance to that course's overall standards of assessment).

Tuesday, July 23, 1:00 – 2:00 p.m.
Location: CT 119
http://web.cscc.edu/is/EmployeeTraining/register.asp?C=664&D=5762

Friday, July 26, 10:00 – 11:00 a.m.
Location: CT 119
http://web.cscc.edu/is/EmployeeTraining/register.asp?C=664&D=5763
---
Submit your news to Update
Do you have news or an announcement for the employees of Columbus State? Send your news to Update, the Columbus State newsletter exclusively for employees. Update is published every Monday and Thursday during the semester, and on Mondays during semester breaks. Send your news to news@cscc.edu by Friday at 9 a.m. for inclusion in the Monday edition, and Wednesday at 9 a.m. for the Thursday edition. Update editors reserve the right to edit submissions for clarity, brevity and editorial style.
Submit your news to students in Campus Life
Are you hosting a special event for students, starting a new class next semester, offering a workshop or seminar of interest, or would you like to share a special student success story? Send your news to Campus Life, the weekly online publication for Columbus State students. Send student news to studentnews@cscc.edu by Tuesday at 9 a.m. for inclusion in the Wednesday edition of Campus Life. Campus Life headlines are sent to students via email each Wednesday during the semester.