June 13, 2019
---
In the news
In the most recent issue of Columbus Business First, the weekly publication devoted much of its June 7 edition to jobs in Central Ohio. One article focused on companies and colleges partnering to find qualified graduates. Todd Warner, executive in residence for workforce innovation, was quoted. Read the article here.
Another article examined staffing shortages faced by restaurants. The soon-to-be-opened Mitchell Hall was mentioned in the story, along with quotes from Jim Taylor, chairperson for hospitality programs. Read the article here.
Commemorate Stonewall at 50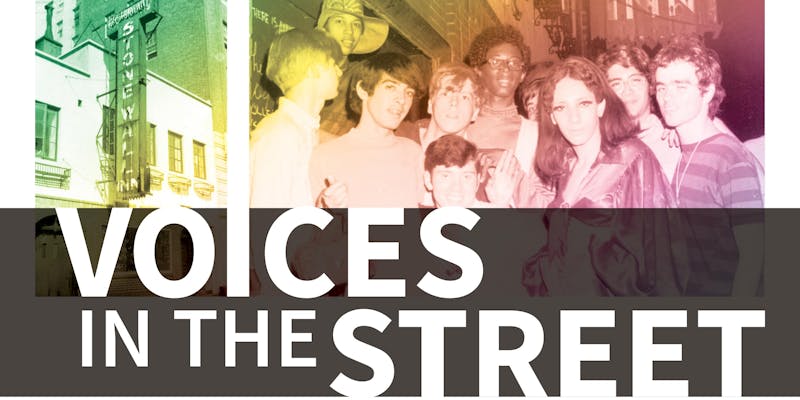 On June 28, 1969, members of the LGBTQ+ community stood their ground and fought back at a New York bar called the Stonewall Inn. The events of that night gave rise to the modern gay rights movement and forever changed how sexual orientation was viewed in America.
Voices in the Street: Stonewall at 50 is a collaborative effort combining photographs, video, audio, historical content, and live performance. Audiences will be transported to the night of the riots with an excerpt from Street Theatre. They will experience a re-creation of the famous speech from Dr. Henry Anonymous and witness the coming of age from a man who shares a birthday with the anniversary of Stonewall in an excerpt from The Night Larry Kramer Kissed Me.
Sponsored by the Columbus State Humanities Department, Voices in the Street: Stonewall at 50 will be held on Friday, June 28 in Nestor Hall Auditorium. The Gallery opens at 6:00 p.m. with live performances beginning at 7:00 p.m. Admission is free. Advisory: This event is for mature audiences.
Men's team finishes fourth in national tournament

For the second time in two years, the Columbus State Cougars finished fourth in the National Junior College Athletic Association (NJCAA) Div. III Men's Golf National Championship. It was held last week in Chautauqua, New York. Coach Rocky Nelson said, "We exceeded our own expectations and it really was a joy to work with this group of young men this season." Sophomore Jake Wilson of Westerville was named an All-American. Pictured, left to right: Nicholas Darling, Anthony Tesi, Preston Yeater, Adam Hopson, Assistant Coach Dan Miller, Coach Rocky Nelson, Jacob Wilson, and Hunter Ficeto. Read the full synopsis here.
Summer professional development opportunities
Summer professional development opportunities
Mark your calendars. The Faculty Entry, Training, and Professional Development committee is bringing several speakers to campus this summer for professional development.
"Engaging Students with Visual Design" featuring presenter Nina Kim on Friday, June 21 in WD 216/217. Time to be announced.
"Interactive Lecturing" featuring presenter Elizabeth Barkley on Friday, June 28 from 9:00 a.m. - 12:30 p.m. in Delaware Hall 133.
"Poverty in the Brain" featuring presenter Rob Levitt on Friday, July 12 from 8:30 a.m. - 4:00 p.m. in WD 412.
If you have questions, contact Karen Rippe at extension 5497.
Summer promotion and tenure (P&T) workshops
Friday, June 14 from 12:15 - 1:45 p.m. in Davidson Hall 408
Wednesday, June 19 from 12:15 - 1:45 p.m. in Nestor Hall 317
Thursday, June 27 from 2:00 - 3:30 p.m. in Davidson Hall 412
Each workshop will include digital portfolio information. If you have questions contact P&T Faculty Fellows Leslie Smith or Tom Shanahan.



Faculty presenters at Achieving the Dream summit
Faculty Fellows Reuel Barksdale and Elizabeth Hammond (pictured) presented on Columbus State's Active Collaborative Learning Initiative and its impact on faculty development at the Achieving the Dream Teaching & Learning Summit. The theme of the summit was "Building a Culture of Teaching Excellence for Student Success." Barksdale and Hammond also assisted teams from other colleges in the development of college missions, vision statements, and strategies to enhance faculty development. The summit was held May 30 - June 1 in Minneapolis and was attended by more than 300 representatives from colleges nationwide.
Humanities professor completes 200th book

Humanities professor Keith Pepperell has just finished his 200th book. Collectively, they are a mixture of textbooks, whodunits, non-fiction history and philosophy, novels, satires, humor, cook books, and instructional books for the elderly and confused. He has recently been a featured historian on History, Discovery, and American Heroes channels and has had award-winning documentaries featured in 13 international film festivals.
Link to his new book "Keeping Him In Stitches:The Great Bayeux Embroidery Mystery" is here.
Link to information about Pepperell's film work.
The Center for Advising, Support and Exploration (CASE) and the Student Academic Support Services (SASS) office are again teaming up to offer Digitize Your Time, a time management workshop series providing students with resources, information, and skills to help them be successful.
The workshops will address the importance of good time management and will include an interactive presentation, creative tips, and electronic tools used daily to help keep the balance of life and school organized. Students will explore how to set up an electronic calendar using whatever tools they are the most comfortable with such as Outlook, Yahoo, and Google.
Students can sign up on Cougar Connect; walk-ins are also welcome. The sessions will be held on Thursday, June 20 at 2:00 p.m. in Franklin Hall 310 and on Tuesday, July 16, at noon in Nestor Hall 323. Please spread the word to students.



Annual mobile mammography screening

The annual mobile mammography screening will be held in the large 11-S lot across the street from Nestor Hall Auditorium on Monday, July 15 from 9:00 a.m. - 4:00 p.m. To make an appointment call James Care Mammography Scheduling Department at 614-293-4455 during business hours. If you have questions, contact Nichole Bowman-Glover at extension 3989.
Offices closing early on July 3
Due to the holiday and annual Red, White, and Boom event downtown, Columbus State offices on both campuses and the regional learning centers will close at 3:00 p.m. on Wednesday, July 3. Faculty members have the option to cancel July 3 evening classes.
The Women's Employee Resource Group (ERG) invites college employees who identify as women to join us as we continue our women and workplace conversations around equity and policy and hear from some of our members who attended the 2019 Ohio Women's Conference last month at the University of Cincinnati. Actress and activist Angela Bassett was the keynote speaker. Feel free to bring your lunch and invite a colleague to join the conversation. The meeting will be held today, June 13 at 11:30 a.m. in Columbus Hall 111, Library Media Studio.

If you have questions about the Women's ERG, contact liaisons Crystal Clark or Kelly Hogan.

Capital planning town hall this Friday

Planning is underway for the College's capital needs – facilities and technology – for the next six years and beyond. The President and his team are working on recommendations for the Board of Trustees. As part of that process, they would like to hear directly from you during several planning sessions this summer focused on your location and department.
The capital planning kick-off discussion will be held Friday, June 14 from 10:00 a.m. - noon in the Nestor Hall west lounge (new location). In this session, they will get your input and discuss the planning process for the summer. This process will include the Delaware Campus, the Regional Learning Centers, and other locations throughout our service area.

Cougar Paw social recognition "Game On" edition

Professional Development & Retention will be celebrating our 2019 Cougar Paw recipients from January – May. They will also feature some narratives highlighting the good work of our Facilities Management team honoring their contributions and dedication to "Putting Students First, Always."

Please join them on Friday, June 14 at 12:05 p.m. at the Facilities Management (FM) building (near the corner of N. Grant Avenue and McCoy Street) for welcoming remarks and a chance to hear those compelling stories. Festivities will include carnival games, popcorn, hot dogs, and merriment as everyone celebrates our colleagues' contributions! And you will be able to take a guided tour of the Facilities Management area to learn more about what they do.

All are welcome. RSVP at this link.
Hot water hiatus in Delaware Hall

The heat exchanger that creates the hot water in Delaware Hall is being replaced. The eight-hour project will be done this Saturday, June 15 beginning at 5:00 a.m. While the replacement is underway, cold water will be available, but hot water will not.
Pride Parade this weekend

You are invited to represent Columbus State at the 38th Annual Columbus Pride Festival and Parade on Saturday, June 15. The parade will step off at 10:30 a.m. at Polar and High streets in the Short North District. It wraps up at Bicentennial and Genoa Parks off of Rich Street. This year marks the 50th anniversary of the Stonewall Riots, a pivotal event in the LGTBQ+ civil rights movement. Please contact Brett Welsh if you would like to participate. This event is open to faculty, staff, students, and guests.



Celebrate Columbus State employee alumni

During the month of June, we would like to celebrate our employee alumni and discuss future engagement opportunities. Join us if you've completed a degree, credential, or even a class at Columbus State.
Foundation Charity Happy Hour
Tuesday, June 18, from 3:00 – 11:00 p.m.
Platform Beer Co., 408 N. 6th St. Columbus, Ohio 43215
The event is open to the public with a special focus on our employee alumni from 4:00-8:00 p.m. (brief remarks around 5:00 p.m.) $1 of every Platform beer sold will go directly toward helping our students. Click here for the Facebook event page.


ID reminder

All faculty and staff need new IDs to interface with new printers and copiers being installed across campus this month. Here is the schedule when IDs will be produced:
Columbus Campus, Student Central - through June 21
Monday - Thursday 8:00 a.m. - 6:30 p.m.
Friday 8:00 a.m. - 4:30 p.m.
(Note: wait times will be shorter before 10:00 a.m.)
Delaware Campus - through June 21
Mondays and Wednesdays 7:00 a.m. - 5:00 p.m.
Tuesdays and Thursdays 7:00 a.m. - 8:00 p.m.
Fridays 7:00 a.m. - 5:00 p.m.
(Faculty members not arriving back until autumn semester will have an opportunity to have their new IDs made upon their return.)

Join Columbus State's Pelotonia team

With the annual 5K completed, avid athletes can now prepare to pedal. For the first time since 2013, there will be a Columbus State team participating in the Central Ohio cancer research fundraiser Pelotonia.
This charity fundraiser bicycle ride offers a variety of distances for riders. Pelotonia will take place on the weekend of August 3 and 4. In addition to riding, there are options to sign up as a virtual rider or volunteer.
To register, follow the registration signup process of your choice and request to join the Columbus State Community College team at the "Request to Join a Peloton" step. If you are already registered for Pelotonia 2019 and would like to join the Columbus State team, please contact Brent Wilder at extension 5789 or Amanda Cecil at extension 2083. Brent and Amanda are the College Pelotonia Ambassadors.


Summer Open Educational Resources workshops at the Library

The Columbus State Library invites you to find out how faculty across the country are gaining greater control over their course material, helping make textbooks affordable, and preparing all students to learn on the first day of class. Join Columbus State's Open Educational Resources (OER) Faculty Fellows for these OER workshops by signing up in Cornerstone by selecting "Learning Search" option under the Learning tab, then search for "OER."
If the workshop times do not accommodate your schedule, please contact Rachel Dilley for individual training at your convenience. The workshops below are held in the Library's third-floor instructional lab in room 302.
Introduction to Open Educational Resources (OER)
Friday, June 14 at 10:00 a.m.
Search, Selection, and Use Strategies for OER
Friday, June 28 at 10:00 a.m.
OER Adoption Process
Friday, July 12 at 10:00 a.m.
Understanding Open Licenses
Friday, July 19 at 10:00 a.m.
Fair Use in the Classroom
Friday, July 26 at 10:00 a.m.


Important end-of-fiscal-year dates

In our continued effort to allow as much time as possible for the expenditure of Fiscal Year 2019 funds, we will retain a June cut-off date for purchases. The last day to purchase goods and services for the year ending June 30, 2019, is June 7, 2019.
Friday, June 7, 2019
Last day to create requisitions in Collea
Friday, June 14, 2019
Last day to place orders with vendors. Exceptions must be approved by your Cabinet member and by Darrin Albaugh, assistant director, Purchasing.
Friday, June 21, 2019
Last day to place office supply orders with Office Depot.
Friday, June 28, 2019
Date by which all goods and services must be physically received in order to be charged to FY'2019 budget. (Note, operating budgets do not carry into the next fiscal year so goods not received by June 30, 2019, will be applied to the FY'2020 budget.)
Friday, June 28, 2019
Last day to complete and submit Bookstore requisition for stock items in the Bookstore.
Tuesday, July 30, 2019
Date by which invoices must be received in Accounts Payable to be paid from FY'2019. Invoices received after July 31, 2019, will be charged to FY'2020.
May 13 - June 30
Subway - Monday - Thursday, 10:00 a.m. - 3:00 p.m. (Closed Fridays)
(Now open one hour earlier, at 10:00 a.m.)
May 28 - August 9
Union Cafe and Starbucks – Monday - Friday 8:00 a.m. - 2:00 p.m.
Sips – Closed
Department of College Recreation & Wellness (CRW) offerings
Recreation Wellness Classes
Mondays and Wednesdays 1:00 – 2:00 p.m.: Hatha Yoga
Fridays 11:00 a.m. – noon: Barre
Fridays noon – 1:00 p.m.:-Yoga Flow or Mat Pilates (alternating weeks)

Self Defense Program
Mondays 5:00 – 6:30 p.m.
Thursdays 10:00 – 11:30 a.m.
Fridays noon – 1:30 p.m.
Delaware Hall 047 (lower level inside the Police Department)

CRW Podcast
The health and wellness podcast, Guidance with Grace, can be heard on SoundCloud. It is updated regularly throughout the year. It is also available on Apple Podcasts, Google Play Music, and Spotify. Released weekly on Friday mornings.
Wellness Workshop
Wellness Workshop
The Benefits of Running & Strength Training
Wednesday, July 24 at noon in Delaware Hall 158
*additional online seminars available via CRW social media pages and the CRW webpage
Columbus Campus Fitness Center
Monday - Thursday 6:15 a.m. – 6:00 p.m.
Friday 6:15 a.m. – 4:00 p.m.
Delaware Campus Fitness Center
Monday - Thursday 8:00 a.m. – 6:00 p.m.
Friday 8:00 a.m. – 4:00 p.m.
The Conditioning Center
Monday - Thursday 6:15 a.m. – 6:00 p.m.
Friday 6:15 a.m. – 3:00 p.m.


DEIS faculty Blackboard training workshops

Use Blackboard Discussion Boards Effectively
Research on how online students persevere in the web environment reveals that in order to be successful, learners need to feel that they are part of an active and invested community. The most direct and comprehensive way to anchor students in this community is through discussion boards. However, the most effective method of designing and facilitating the discussion board often relates closely to the discipline of the course. This session will offer practical tips and useful strategies for creating effective student-to-student interaction from two contrasting academic areas. Led by Ann Palazzo, Professor of English, and Kevin James, Professor of Mathematics.
Friday, June 14, 1:00 - 2:00 p.m.
Location: CT 106
Register here: http://web.cscc.edu/is/EmployeeTraining/register.asp?C=929&D=5770

Increase Student Success with Blackboard Rubrics
Do you find yourself writing the same comments to multiple students when grading? Do your students ask you why they received a "B" instead of an "A" on an assignment? Rubrics outline assignment expectations for students and allow them to know how assignments will be graded. Rubrics are powerful tools for instructors to use to provide feedback to students in a very efficient, consistent manner. Grading rubrics are easy to create in Blackboard. In this training session, learn how to use Blackboard grading rubrics enhance the feedback for students and improve the grading experience for faculty. (Note: A basic knowledge of Blackboard is required.)
Thursday, June 27, 3:00 - 4:00 p.m.
Location: CT 106
Register here: http://web.cscc.edu/is/EmployeeTraining/register.asp?C=930&D=5771
How to Use Turnitin Direct Assignment
Learn how to use Turnitin to check your student's writing for plagiarism and to easily grade their papers online. Turnitin Direct Assignment is now integrated with Blackboard. It is a useful and effective feature that allows instructors to provide feedback to students through markup instruments, rubrics, proofing tools and originality reports. Presented by Robert Trent, Turnitin trainer and tech support.
Friday, June 28, 11:00 a.m. - noon
Location: CT 106
Register here: http://web.cscc.edu/is/EmployeeTraining/register.asp?C=931&D=5772
NEW: Blackboard's Features
Learn how to use Blackboard features that will make your life easier. Some are brand new to Blackboard and some are just new to you. Due Date Management, Video/Audio Feedback, Grade Center tips and more!
Tuesday, July 9, 1:00 - 2:00 p.m.
Location: CT 119
Register here: http://web.cscc.edu/is/EmployeeTraining/register.asp?C=908&D=5766
NEW: Kaltura Capture
For years, TechSmith (Camtasia) Relay has been the College's simple screen/camera recording program. It is now being phased out and will be completely replaced with a new program, Kaltura Capture, by the end of 2019. So join us and learn about Kaltura Capture, which works on any computer to create your own videos with just a few mouse clicks. Those videos are then automatically pushed to Blackboard, where they can be easily embedded in any course site. You can also embed the videos in any other website — including CSCC's own, soon-to-be-released YouTube-like site — or download them to your computer.
Friday, July 12, 10:00 - 11:00 a.m.
Location: CT 106
http://web.cscc.edu/is/EmployeeTraining/register.asp?C=927&D=5768
NEW: Use Learning Glass to Enhance Your Class
Why use Learning Glass? You need to show students diagrams, graphs, illustrations, flowcharts, mathematical equations or scientific formulas. In your classroom, you stand at a whiteboard with your back to students while you teach. With Learning Glass – a camera records your face, your voice, and your writing on the Lightboard for a more personal and engaging learning experience. Your recorded Learning Glass presentations in Blackboard benefit web and blended students. Workshop includes hands-on practice.
Friday, July 12, 11:00 a.m. – noon
Location: CT 106
http://web.cscc.edu/is/EmployeeTraining/register.asp?C=926&D=5775

Monday, July 29, 2:00 - 3:00 p.m.
Location: CT 106
http://web.cscc.edu/is/EmployeeTraining/register.asp?C=926&D=5776
NEW: Tips, Tricks, and Techniques to Make Your Grade Center Experience Better
Learn all about your Blackboard Grade Center including filtering, manage column organizations, weighted grades, and more!
Friday, July 19, 11:00 a.m. - noon
Location: CT 119
http://web.cscc.edu/is/EmployeeTraining/register.asp?C=924&D=5764
NEW: Blackboard Grade Center
Need to brush up on your Grade Center skills? This workshop will introduce you to the main Grade Center features. Participants can also schedule additional one-on-one help with the Faculty Assistance Center following the workshop.
All College faculty are required to use the Grade Center in Blackboard. According to a resolution approved by Academic Council:
In order to increase student success, the OAA Digital Learning Committee recommends that all Columbus State faculty employ the Blackboard Grade Center for students in a manner which allows students to determine, at any point during the term, their current grade in the course (e.g. a running average; running total, weighted or unweighted; other up-to-date benchmark that allows a student to compare their performance to that course's overall standards of assessment).

Tuesday, July 23, 1:00 – 2:00 p.m.
Location: CT 119
http://web.cscc.edu/is/EmployeeTraining/register.asp?C=664&D=5762

Friday, July 26, 10:00 – 11:00 a.m.
Location: CT 119
http://web.cscc.edu/is/EmployeeTraining/register.asp?C=664&D=5763
---
Submit your news to Update
Do you have news or an announcement for the employees of Columbus State? Send your news to Update, the Columbus State newsletter exclusively for employees. Update is published every Monday and Thursday during the semester, and on Mondays during semester breaks. Send your news to news@cscc.edu by Friday at 9 a.m. for inclusion in the Monday edition, and Wednesday at 9 a.m. for the Thursday edition. Update editors reserve the right to edit submissions for clarity, brevity and editorial style.
Submit your news to students in Campus Life
Are you hosting a special event for students, starting a new class next semester, offering a workshop or seminar of interest, or would you like to share a special student success story? Send your news to Campus Life, the weekly online publication for Columbus State students. Send student news to studentnews@cscc.edu by Tuesday at 9 a.m. for inclusion in the Wednesday edition of Campus Life. Campus Life headlines are sent to students via email each Wednesday during the semester.