June 24, 2019
---
$1.2 million donation designed to
improve student success
President Harrison provides remarks during the public announcement of Stay the Course™ last Thursday (June 20) in the WD.



When Catholic Social Services recently received a $1.2 million award, the service organization announced it would partner with Columbus State Community College to improve degree completion. The funds will be used to replicate a program known as Stay the Course™.

Initially developed by Catholic Charities of Fort Worth, Stay the Course™ helps students address personal, economic, and social barriers to college success through intensive case management and emergency financial assistance.

When paired with a case manager, students increase their success of graduating at a rate 4x higher than those who don't receive these services. What's more, 35 percent of female Stay the Course™ students graduated three years after enrollment compared to less than 1 percent in the comparison group.

Catholic Social Services (CSS) and Columbus State will now replicate Stay the Course™ and participate in a research study to find ways to match or exceed past results. CSS will add five employees to implement Stay the Course™ at the College. Three will work directly with students on the Columbus Campus. The grant includes resources for emergency financial assistance to Columbus State students.
WCMH-TV (NBC 4) and the Columbus Dispatch both provided coverage of the public announcement. Read the Dispatch story here.


Capital Planning sessions begin this week

The first of more than a dozen Capital Planning sessions will be held this Friday. The others will be held in July and August. See all sessions here. (A registration link is at the top of that page.)
Department voicemail transition continues

Changes for all employees coming soon
The Information Technology (IT) division will be directing all employee and department mailboxes to the new voicemail system, beginning July 1. All employees will receive an email with detailed instructions for setting up a new voicemail on that date.
Important Notes:
If you manage a department mailbox, you can access the system and set up your department greeting ahead of time at 614-287-3100. Click here to see the list of department extensions. Advanced setup for departments is recommended to help ensure a smooth transition. Thank you to those who have already completed this step!
Please note: If your department contact number is also someone's personal extension, it will not be accessible for setup until July 1.
Existing voicemail messages will not be transferred. Employees should review their saved messages and document vital information while the current system is still available. Messages on the current system will be accessible for reference at 614-287-2555 until August 1.
For more information about this migration, you can review the Voicemail FAQs (Frequently Asked Questions).
A separate email was sent out earlier this month with detailed instructions for departments. If you have questions or need this email resent, please contact the IT Support Center at extension 5050 or email helpdesk@cscc.edu.
Faculty member presents at student financial wellness conference

Faculty Fellow Jack Popovich took his knowledge of finances to develop a conference presentation "Holistic Student Financial Wellness at a Large Community College." The conference combined four related sub-conferences of Student Financial Wellness, Closing the Achievement Gap, First Generation Student Success, and Assessment, Persistence, and Data Analytics. More than 1,400 representatives from colleges in all 50 states and from 30 countries attended. It was held June 16 - 18 in Orlando.

SEaL welcomes new team member
Susan Goeschl is a new specialist in Student Engagement and Leadership (SEaL), where she supports and assists in the development of Columbus State's Clubs, Organizations & Affiliations, and student-facing service initiatives. Susan holds an associate degree in Hospitality Management from Columbus State and is working on a bachelor's degree in Public Administration at Franklin University.
She also served as a student representative on the Columbus State Board of Trustees. Goeschl's community service includes the HEART Food Pantry Board of Directors and co-founding of Campus Cupboards, a 501c3 addressing food insecurity on college campuses.
Commemorate Stonewall at 50 this Friday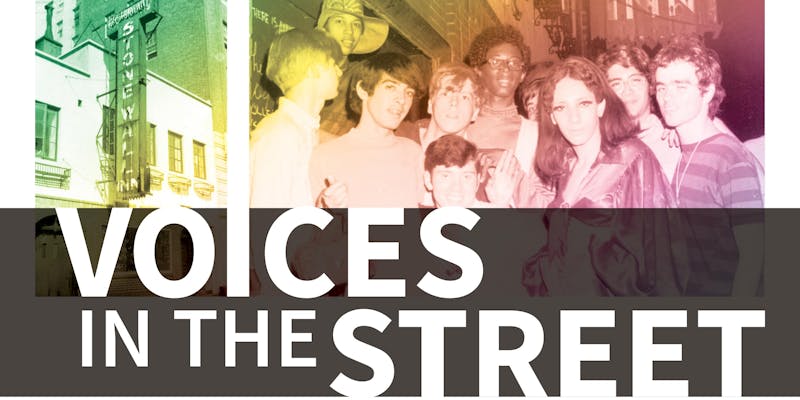 On June 28, 1969, members of the LGBTQ+ community stood their ground and fought back at a New York bar called the Stonewall Inn. The events of that night gave rise to the modern gay rights movement and forever changed how sexual orientation was viewed in America.
Voices in the Street: Stonewall at 50 is a collaborative effort combining photographs, video, audio, historical content, and live performance. Audiences will be transported to the night of the riots with an excerpt from Street Theatre. They will experience a re-creation of the famous speech from Dr. Henry Anonymous and witness the coming of age from a man who shares a birthday with the anniversary of Stonewall in an excerpt from The Night Larry Kramer Kissed Me.
Sponsored by the Columbus State Humanities Department, Voices in the Street: Stonewall at 50 will be held on Friday, June 28 in Nestor Hall Auditorium. The Gallery opens at 6:00 p.m. with live performances beginning at 7:00 p.m. Admission is free. Advisory: This event is for mature audiences. Free registration link is here.


ERG news
The Empowering Diverse Abilities Employee Resource Group (ERG) offers a supportive, inclusive and confidential environment for college employees who identify with a disability or as a caretaker for someone with a disability. Please join us on Tuesday, June 25 from noon - 1:00 p.m. at Stauf's Coffee Roasters, 350 Mt. Vernon Ave. For additional information, please contact Michael Hicks or Jennifer Shah. This is a new day and time for this ERG.
The Aspiring Leaders ERG will meet on Thursday, June 27 from noon - 1 p.m. In our third session of the StrengthsFinder series, we will explore the thought of 'Empowered to Lead.' The group will dive deeper to explore our strengths and how this can relate to our work and leadership style today so we can see how our greatness can be actualized in our everyday life.
Legal Aid Society on campus today for students
A representative from Legal Aid Society of Columbus will be on campus today, June 24 from 10:30 a.m. - noon hosting one-on-one appointments and walk-in hours in Eibling Hall room 201. Encourage students to stop by with questions. Legal Aid can assist with these and more:
Benefits (Medicaid/Medicare, food stamps, Ohio Works First, SSI/SSDI, disability assistance, Title XX Child Care, unemployment compensation, and medical debt)
Family (Divorce, civil protection order, custody, spousal/child support)
Housing (Evictions, conditions problems, subsidy terminations)
Consumer (Foreclosure, credit card debt, consumer scams, repossessions)
Tax (Disputes with both the IRS and the State of Ohio)
Reentry (Record sealing, CQE)
Students are encouraged to complete an Intake Form prior to arrival
Topiary Park and Freedom School announcements
Topiary Park will feature The Shawshank Redemption on the big screen under the stars, Saturday, June 29 at dusk. The first film of the 2019 Topiary Park Summer Movie Series, this classic book-to-film adaption was shot just north of Columbus in Mansfield.

Broad Street United Methodist Church is still accepting community members who would like to read to their students at their Freedom School this summer. The readings are at 8:30 a.m. daily. If you are interested, sign up here.
Open campus fourms
Associate Vice President of Advising and Student Support
Candidate: Dr. Anthony Bourne - Link to resume
Monday, June 24 from 10:00 - 10:45 a.m. in Franklin Hall 104

Candidate: Dr. Larisa Harper - Link to resume
Tuesday, June 25 from 10:30 - 11:15 a.m. in Franklin Hall 104

Candidate: Dr. Jonelle Knox - Link to resume
Wednesday, June 26 from 10:00 - 10:45 a.m. in Columbus Hall 111

Summer promotion and tenure (P&T) workshop
Thursday, June 27 from 2:00 - 3:30 p.m. in Davidson Hall 412
The workshop will include digital portfolio information. If you have questions contact P&T Faculty Fellows Leslie Smith or Tom Shanahan.
June 28 – August 15. See all sessions here. (There is a registration link at the top of that page.)
Summer professional development opportunities

Mark your calendars. The Faculty Entry, Training, and Professional Development committee is bringing several speakers to campus this summer for professional development.
"Terms of Engagement: Understanding and Promoting Student Engagement in Today's College Classroom "featuring presenter Elizabeth Barkley on Friday, June 28 from 9:00 a.m. - 12:30 p.m. in Delaware Hall 133. Click here to register
"Poverty in the Brain" featuring presenter Rob Levitt on Friday, July 12 from 8:30 a.m. - 4:00 p.m. in WD 412. Click here to register
If you have questions, contact Karen Rippe at extension 5497.
Offices closing early on July 3

Due to the holiday and annual Red, White, and Boom event downtown, Columbus State offices on both campuses and the regional learning centers will close at 3:00 p.m. on Wednesday, July 3. Faculty members have the option to cancel classes scheduled after 3:00 p.m. on July 3.

Annual mobile mammography screening

The annual mobile mammography screening will be held in the large 11-S lot across the street from Nestor Hall Auditorium on Monday, July 15 from 9:00 a.m. - 4:00 p.m. To make an appointment call James Care Mammography Scheduling Department at 614-293-4455 during business hours. If you have questions, contact Nichole Bowman-Glover at extension 3989.

Time Management for students

The Center for Advising, Support and Exploration (CASE) and the Student Academic Support Services (SASS) office are again teaming up to offer Digitize Your Time, a time management workshop series providing students with resources, information, and skills to help them be successful.
The workshops will address the importance of good time management and will include an interactive presentation, creative tips, and electronic tools used daily to help keep the balance of life and school organized. Students will explore how to set up an electronic calendar using whatever tools they are the most comfortable with such as Outlook, Yahoo, and Google.
Students can sign up on Cougar Connect; walk-ins are also welcome. The sessions will be held on Thursday, June 20 at 2:00 p.m. in Franklin Hall 310 and on Tuesday, July 16, at noon in Nestor Hall 323. Please spread the word to students.
Join Columbus State's Pelotonia team

With the annual 5K completed, avid athletes can now prepare to pedal. For the first time since 2013, there will be a Columbus State team participating in the Central Ohio cancer research fundraiser Pelotonia.
This charity fundraiser bicycle ride offers a variety of distances for riders. Pelotonia will take place on the weekend of August 3 and 4. In addition to riding, there are options to sign up as a virtual rider or volunteer.
To register, follow the registration signup process of your choice and request to join the Columbus State Community College team at the "Request to Join a Peloton" step. If you are already registered for Pelotonia 2019 and would like to join the Columbus State team, please contact Brent Wilder at extension 5789 or Amanda Cecil at extension 2083. Brent and Amanda are the College Pelotonia Ambassadors.
Summer Open Educational Resources workshops at the Library

The Columbus State Library invites you to find out how faculty across the country are gaining greater control over their course material, helping make textbooks affordable, and preparing all students to learn on the first day of class. Join Columbus State's Open Educational Resources (OER) Faculty Fellows for these OER workshops by signing up in Cornerstone by selecting "Learning Search" option under the Learning tab, then search for "OER."
If the workshop times do not accommodate your schedule, please contact Rachel Dilley for individual training at your convenience. The workshops below are held in the Library's third-floor instructional lab in room 302.
Search, Selection, and Use Strategies for OER
Friday, June 28 at 10:00 a.m.
OER Adoption Process
Friday, July 12 at 10:00 a.m.
Understanding Open Licenses
Friday, July 19 at 10:00 a.m.
Fair Use in the Classroom
Friday, July 26 at 10:00 a.m.


Important end-of-fiscal-year dates

In our continued effort to allow as much time as possible for the expenditure of Fiscal Year 2019 funds, we will retain a June cut-off date for purchases. The last day to purchase goods and services for the year ending June 30, 2019, is June 7, 2019.
Friday, June 7, 2019
Last day to create requisitions in Collea
Friday, June 14, 2019
Last day to place orders with vendors. Exceptions must be approved by your Cabinet member and by Darrin Albaugh, assistant director, Purchasing.
Friday, June 21, 2019
Last day to place office supply orders with Office Depot.
Friday, June 28, 2019
Date by which all goods and services must be physically received in order to be charged to FY'2019 budget. (Note, operating budgets do not carry into the next fiscal year so goods not received by June 30, 2019, will be applied to the FY'2020 budget.)
Friday, June 28, 2019
Last day to complete and submit Bookstore requisition for stock items in the Bookstore.
Tuesday, July 30, 2019
Date by which invoices must be received in Accounts Payable to be paid from FY'2019. Invoices received after July 31, 2019, will be charged to FY'2020.
May 13 - June 30
Subway - Monday - Thursday, 10:00 a.m. - 3:00 p.m. (Closed Fridays)
(Now open one hour earlier, at 10:00 a.m.)
May 28 - August 9
Union Cafe and Starbucks – Monday - Friday 8:00 a.m. - 2:00 p.m.
Sips – Closed
Department of College Recreation & Wellness (CRW) offerings
Mind Body Recreation Classes
Monday and Wednesday 1:00 - 2:00 p.m. Hatha Yoga
Friday 11:00 a.m. – noon Barre, noon - 1:00 p.m. Yoga Flow or Mat Pilates (alternating weeks)
Self Defense Program
Monday 5:00 - 6:30 p.m., Thursday 10:00 - 11:30 a.m., and Friday noon – 1:30 p.m.
Delaware Hall 047
Guidance with Grace Podcast
Released weekly on Friday mornings and can be heard on SoundCloud.
Wellness Workshop
The Benefits of Running & Strength Training; Wednesday, July 24 at noon; Delaware Hall 158
*additional online seminars will be available via CRW social media pages and the CRW webpage
Columbus Campus Fitness Center Hours
Monday - Thursday 6:15 a.m. – 6:00 p.m.
Friday 6:15 a.m. - 4:00 p.m.
Delaware Campus Fitness Center Hours
Monday-Thursday 8:00 a.m. – 6:00 p.m.
Friday's 8:00 a.m. – 4:00 p.m.
The Conditioning Center Hours
Monday - Thursday 6:15 a.m. – 6:00 p.m.
Friday' 6:15 a.m. – 3:00 p.m.
DEIS faculty Blackboard training workshops
Increase Student Success with Blackboard Rubrics
Do you find yourself writing the same comments to multiple students when grading? Do your students ask you why they received a "B" instead of an "A" on an assignment? Rubrics outline assignment expectations for students and allow them to know how assignments will be graded. Rubrics are powerful tools for instructors to use to provide feedback to students in a very efficient, consistent manner. Grading rubrics are easy to create in Blackboard. In this training session, learn how to use Blackboard grading rubrics enhance the feedback for students and improve the grading experience for faculty. (Note: A basic knowledge of Blackboard is required.)
Thursday, June 27, 3:00 - 4:00 p.m.
Location: CT 106
Register here: http://web.cscc.edu/is/EmployeeTraining/register.asp?C=930&D=5771
How to Use Turnitin Direct Assignment
Learn how to use Turnitin to check your student's writing for plagiarism and to easily grade their papers online. Turnitin Direct Assignment is now integrated with Blackboard. It is a useful and effective feature that allows instructors to provide feedback to students through markup instruments, rubrics, proofing tools and originality reports. Presented by Robert Trent, Turnitin trainer and tech support.
Friday, June 28, 11:00 a.m. - noon
Location: CT 106
Register here: http://web.cscc.edu/is/EmployeeTraining/register.asp?C=931&D=5772
NEW: Blackboard's Features
Learn how to use Blackboard features that will make your life easier. Some are brand new to Blackboard and some are just new to you. Due Date Management, Video/Audio Feedback, Grade Center tips and more!
Tuesday, July 9, 1:00 - 2:00 p.m.
Location: CT 119
Register here: http://web.cscc.edu/is/EmployeeTraining/register.asp?C=908&D=5766
NEW: Kaltura Capture
For years, TechSmith (Camtasia) Relay has been the College's simple screen/camera recording program. It is now being phased out and will be completely replaced with a new program, Kaltura Capture, by the end of 2019. So join us and learn about Kaltura Capture, which works on any computer to create your own videos with just a few mouse clicks. Those videos are then automatically pushed to Blackboard, where they can be easily embedded in any course site. You can also embed the videos in any other website — including CSCC's own, soon-to-be-released YouTube-like site — or download them to your computer.
Friday, July 12, 10:00 - 11:00 a.m.
Location: CT 106
http://web.cscc.edu/is/EmployeeTraining/register.asp?C=927&D=5768
NEW: Use Learning Glass to Enhance Your Class
Why use Learning Glass? You need to show students diagrams, graphs, illustrations, flowcharts, mathematical equations or scientific formulas. In your classroom, you stand at a whiteboard with your back to students while you teach. With Learning Glass – a camera records your face, your voice, and your writing on the Lightboard for a more personal and engaging learning experience. Your recorded Learning Glass presentations in Blackboard benefit web and blended students. Workshop includes hands-on practice.
Friday, July 12, 11:00 a.m. – noon
Location: CT 106
http://web.cscc.edu/is/EmployeeTraining/register.asp?C=926&D=5775

Monday, July 29, 2:00 - 3:00 p.m.
Location: CT 106
http://web.cscc.edu/is/EmployeeTraining/register.asp?C=926&D=5776
NEW: Tips, Tricks, and Techniques to Make Your Grade Center Experience Better
Learn all about your Blackboard Grade Center including filtering, manage column organizations, weighted grades, and more!
Friday, July 19, 11:00 a.m. - noon
Location: CT 119
http://web.cscc.edu/is/EmployeeTraining/register.asp?C=924&D=5764
NEW: Blackboard Grade Center
Need to brush up on your Grade Center skills? This workshop will introduce you to the main Grade Center features. Participants can also schedule additional one-on-one help with the Faculty Assistance Center following the workshop.
All College faculty are required to use the Grade Center in Blackboard. According to a resolution approved by Academic Council:
In order to increase student success, the OAA Digital Learning Committee recommends that all Columbus State faculty employ the Blackboard Grade Center for students in a manner which allows students to determine, at any point during the term, their current grade in the course (e.g. a running average; running total, weighted or unweighted; other up-to-date benchmark that allows a student to compare their performance to that course's overall standards of assessment).

Tuesday, July 23, 1:00 – 2:00 p.m.
Location: CT 119
http://web.cscc.edu/is/EmployeeTraining/register.asp?C=664&D=5762

Friday, July 26, 10:00 – 11:00 a.m.
Location: CT 119
http://web.cscc.edu/is/EmployeeTraining/register.asp?C=664&D=5763
---
Submit your news to Update
Do you have news or an announcement for the employees of Columbus State? Send your news to Update, the Columbus State newsletter exclusively for employees. Update is published every Monday and Thursday during the semester, and on Mondays during semester breaks. Send your news to news@cscc.edu by Friday at 9 a.m. for inclusion in the Monday edition, and Wednesday at 9 a.m. for the Thursday edition. Update editors reserve the right to edit submissions for clarity, brevity and editorial style.
Submit your news to students in Campus Life
Are you hosting a special event for students, starting a new class next semester, offering a workshop or seminar of interest, or would you like to share a special student success story? Send your news to Campus Life, the weekly online publication for Columbus State students. Send student news to studentnews@cscc.edu by Tuesday at 9 a.m. for inclusion in the Wednesday edition of Campus Life. Campus Life headlines are sent to students via email each Wednesday during the semester.